Now Booking For 2018!
Choose Your Date... Choose Your Time... Call Today

Email Shelly or call: (712)253-0923
---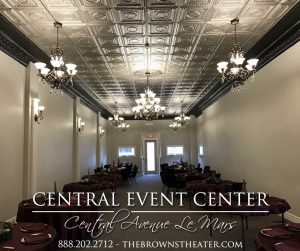 – Buffet Meal –  Mid-Day or Evening – Served in our new dining venture, located right across the street in the newly renovated, turn-of-the-century, elegant, Central Event Center.  The delicious meals will give you a taste of what's to come!
– Convenient cur-side bus parking at both the Theater and Event Center
– Reserved seating for your grou
– Complimentary meal and theater ticket for the director and bus driver
– Discount coupon for The Gift Gallery gift shop located in the lower level of the theater
– Step on greeting and send off and escort to dinning and show
– Group announced in Theater
 EXPERIENCE A BRANSON STYLE LIVE MUSIC SHOW RIGHT HERE IN THE MIDWEST
MARCH – CELTIC Celebration   Listen to our most requested style of music.  Fiddles, Irish Song, and Dance..
APRIL – CELEBRATE EASTER All uplifting Easter music is played and sang in this praise concert…
MAY – SPRING HIGH TEA or VARIETY SHOW    
JUNE – ICE CREAM AND IOWA This show shares the joy of living in the Midwest and the Ice Cream Capitol of the World…
JULY – CELEBRATE AMERICA/PATRIOTIC  This was our most popular show last year behind Christmas.  Come Salute the USA
AUGUST – COUNTRY AND VARIETY SHOW     Country flavored songs from Traditional Country Music Hall of Fame Recipients…The Browns
SEPTEMBER  – SOUTHERN GOSPEL SEPTEMBER   Songs celebrating our Southern Gospel roots with tight family harmonies…
OCTOBER – VARIETY MUSIC SHOW   A variety of our favorite styles combined to bring you a Branson Style family fun show…
NOVEMBER – CHRISTMAS SHOW   Enjoy the NEW Christmas Classics
DECEMBER – CHRISTMAS SHOW   Enjoy the NEW Christmas Classics
OUR GROUP SALES DIRECTOR IS AVAILABLE TO SERVE YOU MONDAY – FRIDAY 9:00-5:00 OR BY EMAIL @ thebrownsmusic@aol.com
MEAL–SHOW–SHOPPING
ALL IN ONE PLACE
Don't forget to leave time and space for Blue Bunny Ice Cream at The Parlor
NEED OTHER ITINERARY IDEAS FOR YOUR TRIP…WE'LL CONNECT YOU