Now Booking For 2018!
Choose Your Date... Choose Your Time... Call Today

Email Shelly or call: (712)253-0923
---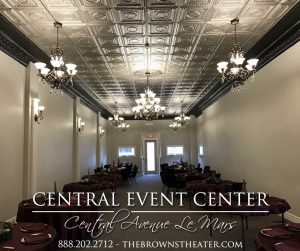 – Buffet Meal –  Mid-Day or Evening – Served in our new dining venture, located right across the street in the newly renovated, turn-of-the-century, elegant, Central Event Center.  The delicious meals will give you a taste of what's to come!
– Convenient cur-side bus parking at both the Theater and Event Center
– Reserved seating for your grou
– Complimentary meal and theater ticket for the director and bus driver
– Discount coupon for The Gift Gallery gift shop located in the lower level of the theater
– Step on greeting and send off and escort to dinning and show
– Group announced in Theater
 EXPERIENCE A BRANSON STYLE LIVE MUSIC SHOW RIGHT HERE IN THE MIDWEST
MARCH – CELTIC Celebration   Listen to our most requested style of music.  Fiddles, Irish Song, and Dance..
APRIL – CELEBRATE EASTER All uplifting Easter music is played and sang in this praise concert…
MAY – SPRING HIGH TEA or VARIETY SHOW    
JUNE – ICE CREAM AND IOWA This show shares the joy of living in the Midwest and the Ice Cream Capitol of the World…
JULY – CELEBRATE AMERICA/PATRIOTIC  This was our most popular show last year behind Christmas.  Come Salute the USA
AUGUST 3 & 4 – COUNTRY AND VARIETY SHOW     Country flavored songs from Traditional Country Music Hall of Fame Recipients…The Browns
SEPTEMBER  – SOUTHERN GOSPEL SEPTEMBER   Songs celebrating our Southern Gospel roots with tight family harmonies…
OCTOBER – VARIETY MUSIC SHOW   A variety of our favorite styles combined to bring you a Branson Style family fun show…
NOVEMBER – CHRISTMAS SHOW   Enjoy the NEW Christmas Classics
DECEMBER – CHRISTMAS SHOW   Enjoy the NEW Christmas Classics
OUR GROUP SALES DIRECTOR IS AVAILABLE TO SERVE YOU MONDAY – FRIDAY 9:00-5:00 OR BY EMAIL @ thebrownsmusic@aol.com
MEAL–SHOW–SHOPPING
ALL IN ONE PLACE
Don't forget to leave time and space for Blue Bunny Ice Cream at The Parlor
NEED OTHER ITINERARY IDEAS FOR YOUR TRIP…WE'LL CONNECT YOU
---
CHRISTMAS 2018
"Christmas In Our Hometown"
    Enjoy Christmas Classics like Sleigh Ride, Winter Wonderland, and Inspirational Carols like Mary Did You Know and  Silent Night.  The Browns bring a touch of their Branson Christmas Show home to Le Mars in their beautifully renovated state-of-the-art historic Century Theater.  Listen as the crowd ooh's and ahh's over their 15 outfit changes including Victorian Caroling Outfits as well as a Violin covered with over 1500 Swarovski 
crystals. 
 Shows at

1:30 and 7:00

starting with a 
delicious dinner in their 1880's restored Event Center.  
Shows
 tailored to fit your groups schedule…pick your day  

November 12th through December 22nd

 
As always
…
curb side reserved parking for your bus! 
An Elegant Victorian Christmas Dinner with all the  Delicious Festive Trimmings
Enjoy your meal surrounded by beautiful Victorian Decorations and a Delightful Christmas Table Setting
Dill and Butter Roast Potatoes
Dinner Rolls and our famous Old Fashioned Peanut Butter Sauce
Up Close and Personal Meet and Greet…

Meet the people and explore the buildings that make up The Browns.   Learn the history behind the buildings and delve into the past history of the town of Le Mars.  Take a tour down memory lane with 18 years of history of The Browns singing group, how they got started, the journey, and what keeps them going!  Also…ask Andrew all the questions you've ever wanted to.
Michaela's Stage To The Stove Christmas Appetizer Cooking Class
… Sharing some of her favorite Christmas recipes from appetizers to desserts.  Sample delicious holiday fare!  
Pick the day and time to fit your groups 

schedule.   
NEW THIS CHRISTMAS SEASON
A Christmas Musical Presentation
…
      The Innkeeper's Wife
 The theater is
 putting together a talented cast of actors and musicians to sing the about that first Christmas. Join Inn Keepers Rebecca and Samuel as they prepare for a busy census in their small town of Bethlehem. 
Shelly and Michaela have teamed up with their producer Wayne Haun and song writing icon Joel Lindsey to musically tell this side of the Christmas story.  Haun,is a
4-time Grammy nominee, 25-time GMA/Dove Award winner, and 3-time BMI Music Award winner
.
Joel Lindsey is one of the most celebrated and award winning writers in the genres of CCM and Inspirational music. With over 800 cuts, Joel has garnered 20 #1
 hits
.
 Be here when we debut our very first musical presentation at the theater!
Then
…
Take the time to stroll down Main Street to see the Christmas decorations
 in
 each store 
front window
 lit up with lights for the Window Decorating Contest.  Don't miss Shelly's (Mrs. Christmas) 50 Themed Decorated Christmas Trees and Wreaths in our buildings with ornaments on every tree for gazing or purchase. Christmas music piped into the street, Vintage Sleighs for photo booths, Candy Cane Lane, and The Browns Gift Ga
llery
 all decked out for the Christmas Open House with a new Ornament Personalization Station. This year see over 300 Nativity displays at the Plymouth County Museum Showroom. Don't forget to include time to eat some Ice Cream from the Blue Bunny Parlor on the way home!  
Your tour group will enjoy these  amenities:
–
Convenient
curb side bus parking at both the Theater and Event Center
-Reserved seating for your group
-Complimentary meal and theater ticket for the director and bus driver
-Discount coupon for The Gift Gallery gift shop located in the lower level of the theater
-Step on greeting and send off and escort to dinning and show
-Group announced in theater
OUR GROUP SALES DIRECTOR IS AVAILABLE TO SERVE YOU MONDAY -FRIDAY 9:00-5:00 OR BY EMAIL @ thebrownsmusic@aol.com  
                      SHELLY        712.253.0923 cell          888.202.2712 office
      Looking for other attractions to fill your day in Le Mars
we will 
connect
 you with our CVB Director Jessica Brownmiller to design your whole trip