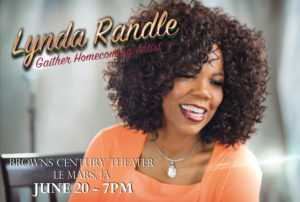 Lynda Randle - Gaither Homecoming Artist
20
Jun
2019
Le Mars, IA
Dove Award winning gospel music artist, Lynda Tait Randle was born and raised in the inner city
of Washington, D.C. Despite her Christian upbringing, Lynda experienced a tumultuous and
painful childhood. Music became a way out of pain and heartache, and through it, many doors of
opportunity have opened up for her around the world. Her gift has allowed her to share the stage
with legends, from Andre Crouch and Gladys Knight to Billy Graham, and since 1993 she has
been a favorite on the Gaither Homecoming programs and videos.
While many may know Lynda as a singer, songwriter, speaker, author, and TV personality, her
most cherished roles are that of wife to Michael Randle, Sr. Pastor of Mosaic Bible Fellowship,
and mother to her two precious daughters, Patience and Joy.